Membership acquisition for the 2023-2024 Membership year is under way.
Please Note: Prices change on September 1.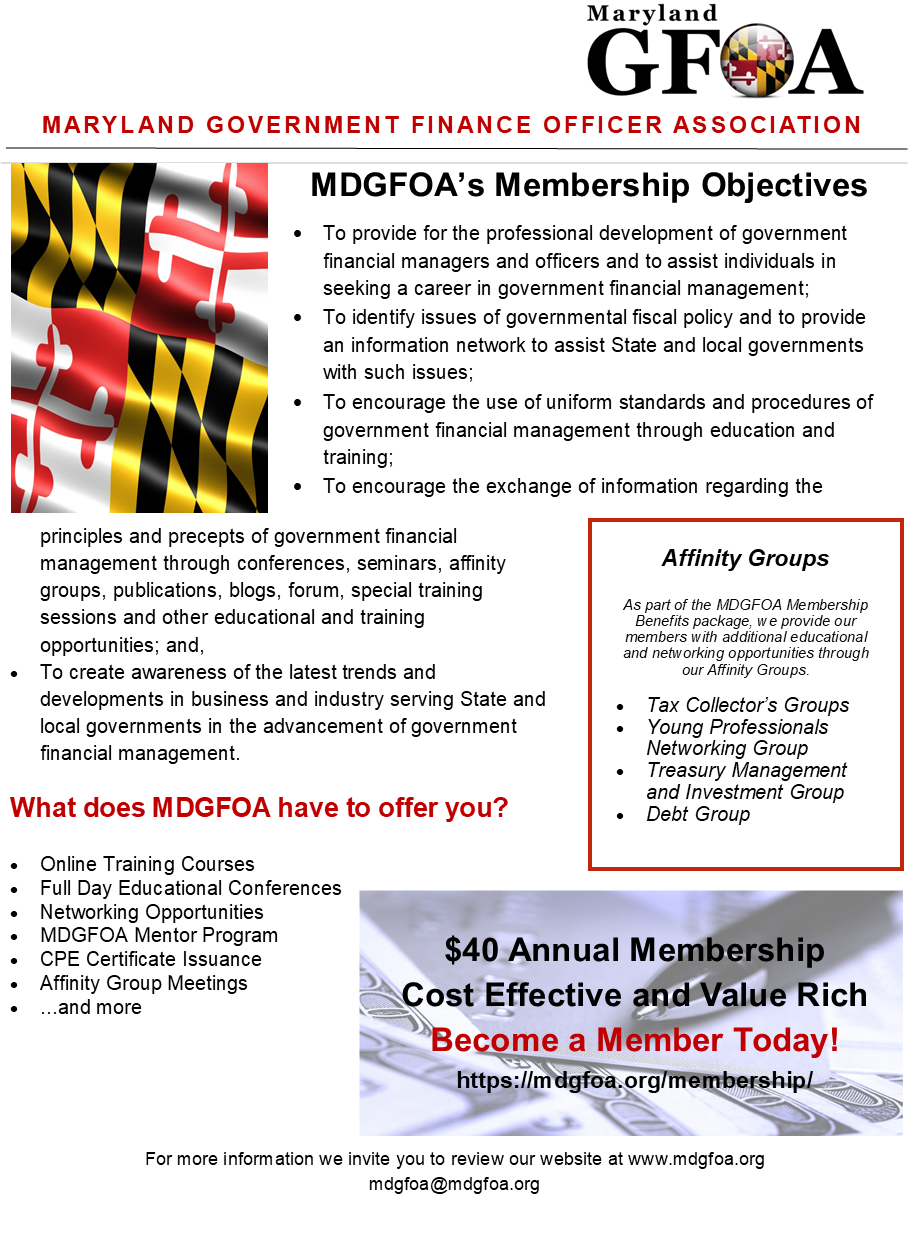 To RENEW your membership (active membership prior year) you will need to log into your Membership account. If you have forgotten your Log in or password you will be able to recover those at the Log In site. If you are an Administrator renewing for your staff, you must log into each account or you may contact us with a list for execution on the back end.

If you are acquiring or renewing your membership, please remember that our Membership Year is July 1st through June 30 each year, regardless of the date you acquired the membership.
MDGFOA Objectives
To provide for the professional development of government financial managers and officers and to assist individuals in seeking a career in government financial management;
To identify issues of governmental fiscal policy and to provide an information network to assist State and local governments with such issues;
To encourage the use of uniform standards and procedures of government financial management through education and training;
To encourage the exchange of information regarding the principles and precepts of government financial management through conferences, seminars, affinity groups, publications, blogs, forum, special training sessions and other educational and training opportunities; and,
To create awareness of the latest trends and developments in business and industry serving State and local governments in the advancement of government financial management.
Membership Year
The MDGFOA Membership year begins July 1 and ends June 30. Notice of membership renewal will be sent to all members to assure no lapse in their membership.
Membership Levels
Active -$40
Active membership may be held by any employee of a governmental entity who is employed in government financial management
Associate- $50
Associate membership may be held by any other person not eligible for active membership, but who is interested in promoting the practice of government financial management, and furthering the purpose and objectives of the Association.
Retired-$15
Retired membership may be held by a former active or associate member who desires to maintain a relationship with the Association upon retirement.
Student- $0
Student membership may be held by a full-time college or university student enrolled in a field of study related to financial management. Verification of enrollment required.
Honorary-
Honorary membership may be bestowed by the Board of Directors on any individual whose record of professional accomplishment in the field of government financial management warrants the recognition. Such membership shall be conferred at the annual business meeting. Not more than one honorary membership shall be conferred in any one year, except that, upon retirement, any former President of the Association shall automatically become an honorary member.